Selecting a new base set can be a confusing and overwhelming process. Here at Henwood we try and make your purchasing decision easier by helping to inform you as much as possible. We hope that our manufacturers insights help you to choose the bed which will give you the best nights rest you have ever had.
PILLOW TOP OR EURO TOP?
Euro top and Pillow top base sets are the most common designs available to you. They have mostly aesthetic differences but there are some functional differences too.
PILLOW TOP
A pillow top mattress is easy to spot because it looks just like it sounds – like a pillow is laying on top of the surface of the mattress. Pillow top mattresses have additional padding stitched on top of the mattress.
EURO TOP
A euro top mattress lines up with the edge of the mattress. Euro tops have a flush, uniformed appearance giving it a more squared finish.
So which should you choose?
Both pillow and euro tops have are very comfortable beds. Pillow tops tend to feel a slightly softer though. If you're looking for the softest mattress for your money, then you should focus more on a pillow top. Euro tops of course can be very soft too, but they're sewn flush against the mattress giving a slightly tighter feeling.
WHAT ABOUT SPRINGS?
There is no coil unit that is going to be perfect for everyone's preference. Weather you go with a pocket spring, Bonnell spring or a straight forward foam bed there is no one size fits all. Lets take a look at the pros and cons of some of the options available to you.
POCKET SPRING
They are a grouping of independent coils wrapped in a fabric casing. These can be in a linear or nested configuration.
– Individual coils wrapped in fabric casing.
– Terrific for pressure point relief.
– Massively reduces partner disturbance.
– Pocket springs tend to be the most expensive.
BONNELL
These units are made in many gauge, coil counts, and levels of durability.
– Look for a minimum of 500 coils for adults or 312 for children.
– Much less expensive than alternatives.
– Perfect if you enjoy a firmer feel.
– Good weight distribution.
– Has some partner disturbance.
CONTINUOUS COIL
These systems are very durable. They consist of many coils that are literally one piece of connected metal giving firm support.
– Many coils connected into a single piece.
– Very Durable.
– A more cost effective option.
– Each spring is supported from adjacent springs.
WHAT'S YOUR WEIGHT?
Knowing how much you and your partner weigh is major part of the decision making process when purchasing a bed that is right for you. A product which is unsuitable for your weight catagory can result in a bed feeling far too hard or too soft which can lead to back pain. It can also impact on the lifespan of your product if you buy a bed that is not made to support your weight.
Remember your bed is the most used piece of furniture in the home and impacts heavily how you live your life day to day. Take your time to see that it will last you and give you comfort and support.
Please be aware of brands selling product at an incorrect weight specification. This can be used as a means to sell you something that is not designed to support you correctly. It will create problems in time.
UPWARDS OF 120 KG's
The selection of sleep set options will be reduced when you start to get into this catagory. Added structure, support and more durable materials are used to ensure that the bed has a long lifespan.
Your bed will more likely be on the firmer side to give you the support that you need.
UPWARDS OF 100 KG's
You should be looking for a bed that has a more robust structure (This includes the base). There are many beds that are constructed to meet your weight specifications but you should still insist on a product with a sturdier construction. Insist on good quality foams in your comfort layer to avoid deep body impressions after a year or two of use.
UPWARDS OF 90 KG's
You are in the sweet spot. The weight catagory that the bulk of many inner spring mattresses are made to withstand. You can focus more intently on comfort preference, ensuring that the product is still of a high quality.
UPWARDS OF 70 KG's
Anything goes for you in this weight catagory. Most beds are made to endure weights that are higher than yours.
If you are so inclined a softer bed may suite you better as body impressions are less of a concern for you.
KNOW YOUR FOAM
The foam that is used in your comfort layer is where a lot of new innovations have come from. Knowing the individual strengths and weaknesses of these foams will help you to understand how they affect your sleep and support.
Latex Foam
– Instantly responds to body shape, ensuring proper conformance and support.
– Excellent air circulation.
– Excellent breathability.
– Is not heat sensitive and performs well at any normal temperature.
– Pressure relief; less tossing and turning, resulting in rejuvenating sleep.
– Environmentally friendly; bio-degradable.
– Does not normally require flipping or turning.
– High quality Latex is inherently anti-microbial, dust mite resistant, and hypoallergenic.
Memory Foam
Memory foam is luxurious to the touch and can create a very comfortable sleep surface. Please note that Memory Foam softens in warmer climates and hardens in cooler ones.
– Conforms to your body shape better than any other foam.
– Excellent for relieving back aches, pains and soreness.
– Anti-microbial, dust mite resistant, and hypoallergenic.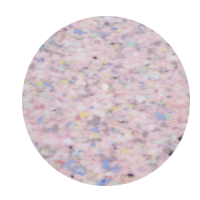 Recon Foam
This highly durable high density virgin foam is used in products to help create a firmer sleep surface. Recon is used in different densities and thicknesses to create extra support areas and distribute weight.
– Creates a firmer sleep surface
– Long lasting
– Durable
High Resiliance Foam
High Resiliency (HR) foam is the highest grade of polyurethane foam. These foams contour to the body incredibly well, and their cell structure enables extreme elasticity and support.
– Higher quality chemicals
– Better Elasticity
– Longer comfort life